eLearning Development, Instructional Design
Demerit Reduction Defensive Driving Online Course, AMA Fleet Safety
eHanlis was asked to develop an engaging online demerit reduction defensive driving course in partnership with AMA. The online course had to meet stringent government accreditation requirements, while meeting extremely tight timelines.
eHanlis Inc. designed and developed a new and engaging 6-hour online course for driver education that was approved by the Government of Alberta for demerit reduction, while meeting extremely tight timelines. The online course addressed e-learning best practices and AMA branding guidelines. AMA's steering committee approved all deliverables. The modules were engaging and interactive, creating a memorable online experience for the user. Sales of this course have exceeded expectations and the pass rates are phenomenal.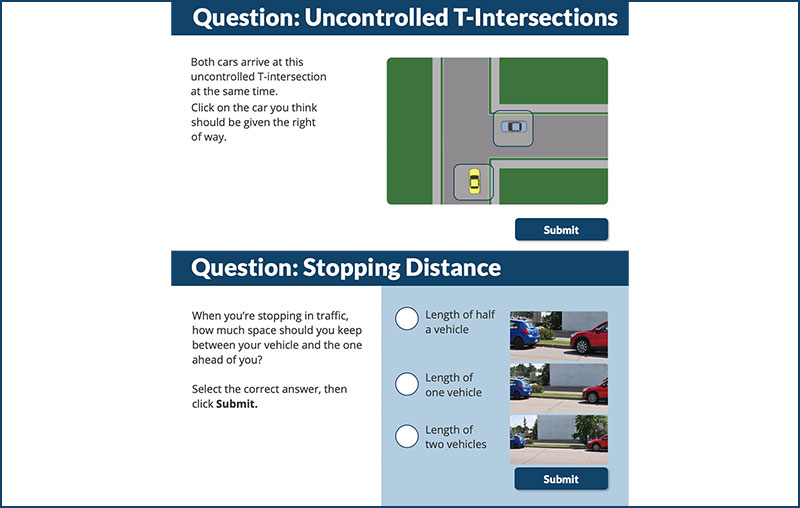 The following activities were completed for this project:
Completed the design, development, and project management of a 6-hour Online Defensive Driving Course in collaboration with an AMA project team.
Developed storyboards for all the online modules in collaboration with AMA subject matter experts.
Built interactive online modules in HTML 5, using responsive design with audio narration and closed captions to meet accessibility guidelines.

Developed modules using Articulate Storyline and delivered using Moodle LMS.
Modules included: videos, animations, self-assessments, multiple choice questions, drag and drop activities, hot spot activities, and a quiz at the end of each module.

Developed an online accreditation exam.
Regularly presented to steering committee and received approvals for deliverables.
Completed documentation for AMA to submit and receive approval from the Government of Alberta for Demerit reduction for this course.
Created standards for future online course development for external AMA clients.